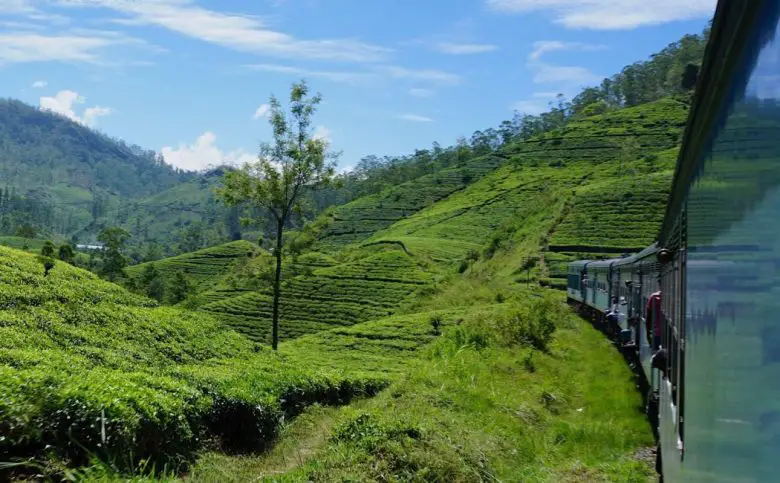 Its been a while since I have been able to travel, so good to get a review up here of a new country 🙂
I spent 7 days here and I feel like I just skimmed the surface of an amazing country! I was traveling from India and one thing that instantly got me was how much more setup the country is. At the airport we got picked up in a Hybrid Toyota Prius and straight down a 4 lane highway. I was able to get a Sim Card for 500 Sri Lankan Rupees with 5 GB of Data for 20 days. The visa process was great as well , I recommend getting an ESTA before hand ( but you can get these on the day ) and you will need to fill out a landing card on Arrival which they don't tell you until you have got the front of the line….
Changing Indian Rupees to Sri Lankan Rupees
People arriving from India, there is actually nowhere to change these in the airport. This is due to the currency being a closed currency and currency places in the airports are banks, however, as always there are people around to do this. I actually found this VERY easy , I was able do to this in a Food shop in Kandy for a good rate however ask around the place you are staying. There is an ATM at the airport.
Travel
The main activity I was recommended was the Kandy to Ella train, a picture esq journey through the heart of the country via the tea fields on one of my favorite transports in this sub continent , the train
I arrived in Colombo , my original plan was to spent the night in Kandy and take the train from there , however as I arrived on the weekend they said the trains where not running that often. The Colombo to Kandy train is not that scenenic however train travel on the weekend is very busy!
Here is a Timetable of the Route
I choose to stay in Colombo for the night and depart at the 5.50 the next morning. I had no bookings so the earlier the less busy I thought!
I turned up at 5am and was able to book a first class ticket to Kandy , a 2 hour layover then continue on the journey to Ella. First class enabled me to get a reserved seat in air conditioning , you can get Second Class Reserved however you cannot purchase this on the day , you need to pre purchase.
As Colmobo is at the start of the track , an instructor will come around and reverse the position of the seats to face the other way.
You can buy food and water before boarding the train at many places allong the track, however don't worry there will be a continuous offer of refreshments throughout the journey from the onboard kitchen, Sweet Chai Tea being my favourite!
Kandy
For my two hours in Kandy, I walked around Kandy Lake and Entered the Temple of the Sacred Tooth Relic. Any holy temple in Sri Lanka you will need to be covered up so No Shorts. You usually can rent or purchase India Yoga pants outside
Kandy to Ella Train
Most people board the train for the scenic journey here. Most backpackers choose Second or Third class which is unreserved. There was a mass scramble to get on the train when it arrived which I didn't have to be a part of because of the reserved seat 🙂
The train moves at a slow pace which means you can hang your leg, body out of the door which have given reason to everyone wanting to get the famous instagram shot. Their is usually a queue for the open door due to this!
The train takes around 4 hours and is breathtaking!
Ella
As I had a simcard I was able to book my accommodation on the train. I choose Ella Escapade Hostel which I can't recommend enough , there was only one bed left so I recommend booking this as early as possible!
Ella is famous for its Tea Fields , hiking and generally a cool backpacker hangout.
Lots of people do the Ella Rock hike for SunRise. If you elect to do this , I recommend you take good route instructions or a guide as the way to the top has lots of turns which can leave you astray and make you miss the 6/7am Sun Rise
I wanted to see how Tea was made, there is the Lipton Tea Fields a train journey away however closer can get a 1500 Rupee Return Tuk Tuk to Uva Haputale Valley Tea Factor
Ella to Matara to Weligama
Next stop was down the coast. The cheapest way to do this is via local bus. Its an experience in itself , no aircon, sometimes no seats , however for 360 Rupees for a 4 hour journey its a bargain. You can pick this up at Ella Bus Station. I recommend picking up some refreshments before the ride especially water , however there will be again offers throughout the journey at different stops.
Sri Lankan Buses
Getting around the coast road is very easy, just get to the side of the road (anywhere not just the bus stop ) and wait for buses ( usually traveling pretty fast! ) and watch for the bus title to see if it's going too or past your destination and put your hand out to flag it down. If they don't stop it usually means they are full. If they stop the conductor will usually shout out asking where you are going in return you shout out a bad pronunciation of the town, and you are welcome onboard. As soon as your hand touch the railings to climb into the bus the bus will start accelerating so watch out for that! You do not pay for the ticket straight away , until the conductor comes round with the machine. I'd recommend waiting for him to print out the receipt of the amount so you don't get overcharged. The conductor also does a very good job of telling you when your stop is , even waking you up if you are asleep 🙂


Lots of travelers from Ella were doing Mirissa as their first south coast city, however because of my tight schedule I wanted to get up the coast. The Ella to Matara should drop you off at a bus shelter, you can get another bus to Weligama however I choose Tuk Tuk due to my accommodation not coming up on Google Maps , the Tuk Tuk Drive was very helpful and called the place for me , however this was about 3 times more expensive than a bus ( 1400 Rupees )
Weligama
A great seaside resort which has amazing seafood, famous for Surfing as well, its very easy to walk on the Beach from about 7am and find placing offering Lessons ( 2500 Rupees / hour ) or Surfboard Rental ( 250 Rupees / hours ). No sight seeing here just enjoy the beach and waves
Galle
Next stop was the Dutch Fort of Galle. A nice A big city on the coast, which has great western food inside the fort if you are missing out on a steak or sushi! I actually found the city outside the fort had great street food as well. There was actually some good surfing here for beginners. If the conditions are good take a board out, as you don't know when the conditions will drop.
Hikkaduwa
Compared to Weligama and Galle this was very touristy, and also a very popular destination for surfing. When I was there however the conditions were not that good , you can check conditons here
Bentota
To me this city was very resort-y! It was definitely relaxing , I never saw more than 100 People on the beach and was offered items for sale twice ! I'd say this was a good place to come and relax and obviously why my friend had chosen it for the destination for his wedding!
Sri Lankan Food to Try
Kottu – A great Sri Lankan go to, what I nick named the Sri Lankan Pad Thai as its something you can have for Breakfast/Lunch and Dunner. Will set you back anywhere between 250 – 400 Rupees depending if you go Veggie or Meat its a mix of fresh rotti, vegtables and spice , with usually a drum performance by the chef on the grill
Coconuts – For westerners paying over the odds for coconut water back home , coconuts are plenitful and fresh here. Alot of places I stayed, you get one at Check In. Sometimes they offer to open it up after drinking the milk so you can eat the flesh with a spoon
Tropical Fruit – You will see multiple fruit vendors on the side of the road selling Banna's still on the vine, Watermelon, Jack Fruit, Passion fruit, Coconuts, Mangos to name a few! You will also have every opportunity to try these blended up in smoothies or Lassies ( a local Yoghurt drink )
Street Food – A big love of mine in asia is street food. I'm a one for taking chances so usually try one of everything. Sri Lanka has multiple variance of food type per city so I recommend you get to the city and watch out of these.
Local Food – I really like going deep and local with food and I also like spicy food so this actually goes hand in hand in Sri Lanka. My tip to find local food was to watch were the tuk tuks were going for Lunch. There will be lots of snacks on offer at the front of these places usually Samosa's or Rotti filled treats which you can take away. If you opt for the sit-down option this will be a buffet selection of curries with Rice/Noddles where you pick your choice and pay later. Sri Lankans like Indians use their hands to eat Curries which you can partake in ( Good instructions ) or ask for a spoon! The flavours are amazing and it will set you back 150-250 Rupees for a very filling delicous meal. For people who do not like spice I'd make sure you know what your ordering!